We asked the Risk-Informed Early Action Partnership, our partners in the Early Warning, Early Action theme, to tell us something about their work and their presence at COP26
---
Involvement with the COP Resilience Hub
The Risk-informed Early Action Partnership (REAP) brings together an unprecedented range of stakeholders across the climate, humanitarian and development communities with the aim of making one billion people safer from climate-related disaster by 2025. COP26 plays an important role in the achievement of this ambitious goal, with specific objectives well aligned with the Resilience Hub. For these reasons, REAP agreed to become a co-lead on the Early Warning Early Action and DRR theme, to help curate the messaging from varied organisations and to support overall coherence of the sessions, both hybrid and virtual, with the broader COP26 discussions.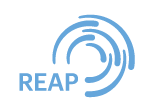 REAP is a time-bound initiative (until 2025) aiming to make the world more resilient to a changing climate through the design and implementation of early action mechanisms.
Their work in Global Climate Resilience
Our initiative is structured around the contribution of our partners to four ambitious targets:
50 countries have reviewed and integrated their crisis/disaster risk management and climate adaptation laws, policies and/or plans to ensure that they reduce climate change impacts and exposure on people and the environment.
1 billion more people are covered by financing and delivery mechanisms connected to effective early action plans, ensuring they can act ahead of predicted disasters and crises.
$500 million invested in early warning system infrastructure and institutions to target early action in 'last/first mile' communities, building on existing initiatives.
1 billion more people are covered by new or improved early warning systems, including heatwave early warning, connected to longer-term risk management systems and supported by effective risk communication and public stakeholder dialogue to prompt informed action.
What they're looking forward to at this year's COP
REAP aims to promote the following through its COP26 engagement:
A vision of a world where early action is the norm.
New concrete commitments by countries and stakeholders towards early action in practice (in line with the four REAP targets).
Increased partnerships benefiting the most climate vulnerable countries.
A call for action or momentum for further engagement.