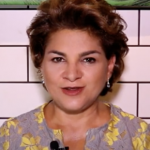 The Turkish artist Selva Ozelli has been inspired to create and curate art in response to the twin threats to humanity of Covid-19 and climate change. Her latest exhibition, Net Zero Art Show, is being exhibited throughout COP26 on four websites including YouTube.
---
'The Covid pandemic has brought devastation to millions around the world, disrupting many parts of the global economy,' says Ozelli. 'Governments have stepped up to protect lives and livelihoods. But climate change has continued, and it ultimately threatens life on earth.'
Ozelli's Net Zero Art Show reflects these themes and contains paintings that were acknowledged in United Nations art competitions. She is an environmentalist working as an artist, writer and tax attorney who has curated virtual art shows in several cities including Istanbul, Hong Kong and London. Her work was included in the recent New York Climate Week.
Talking last year of her show Art in the Time of Corona, her message is just as relevant to COP26:
'I want viewers of art to respect a lot of different things, such as the life of all who inhabit this world, not only humans but our relationships with plants, animals, those who put their lives on the line to save us, and those who bring technological innovations that make life easier for humans.'
Main image: Recovery Roses (detail) by Selva Ozelli
---
Selva Ozelli's Net Zero Art Show
https://www.youtube.com/watch?v=q63Y_4LDjXE&t=231s
2021 UNGA Guide: https://virt.com/search/?term=selva+ozelli&when=past
Creative Carbon Scotland: https://www.creativecarbonscotland.com/event/net-zero-art-show-selva-ozelli/
Stop Climate Chaos: https://www.stopclimatechaos.scot/events/
Climate Fringe COP26: https://climatefringe.org/events/net-zero-art-show-by-selva-ozelli/
Culture at COP: https://www.cultureatcop.com/events/net-zero-art-show-by-selva-ozelli-2021-942de36f-cf63-4518-8554-a1d27ac21bc9