An accessible early warning system is supporting residents of Tuti Island, Sudan, to better respond to extreme weather events.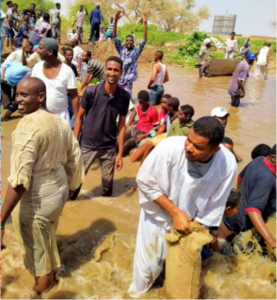 Tuti Island is located in Khartoum, Sudan. In 2020, the island was devastated by floods, which directly affected over 875,000 people, claimed approximately 120 lives, and generated flood-related damages and losses amounting to over USD $3.34 billion (WorldBank, 2020).  The climate crisis and current projections of  temperature rise, by 0.5°C to as much as 3°C by 2050, with more extreme temperatures in the north of Africa, will intensify and exacerbate the impacts of drought through increased evapotranspiration and reduced soil moisture, greatly affecting people's livelihoods in the island.
Mindful of this reality and aiming to lessen the impacts of the climate crisis by increasing people's resilience, our partner DARAJA through SUDTT started the implementation of an innovative initiative, which seeks to provide the local community with timely forecast information and early warning system services for urban areas, in an inclusive manner.
The DARAJA platform and application builds and supports a community network of users in accessing information and taking early action. Similar initiatives are also being piloted in Nairobi, Kenya and Dar Es Salaam, Tanzania, aiming to improve the climate resilience of vulnerable populations living in informal settlements.
In Tuti Island, in particular, SUDTT is working with the local community to strengthen the Taya system. The Taya system is  a community-led indigenous flood monitoring and early warning system, which includes the participation of women and youth as key stakeholders, consisting of a system of tents built in the proximity of informal settlements highly vulnerable to flooding. The name originated from the Arabic word TAJ which means crown and is metaphorically used to indicate a high place in the ground to observe. It is a network of tents that operate as lookout points situated in strategic locations.
The TAYA project is comprised of five steps:
Vulnerability and needs assessments
Access to weather forecasts and warnings
Preference of ways to receive warning information
Understanding the weather forecast
Use and apply the received forecast information and warning signals
At a later stage, the DARAJA partners aim to expand the project nationwide.
–
Location & Region: Tuti Island, Khartoum, Sudan – MENA
Partner: Daraja
Implementer: Tuti Community Groups, Sudan Urban Development Think Tank (SUDTT), Resurgence, University of Khartoum
Area and sector: Urban/early warning system, Technology
– 
This article was originally published on 11 October 2022 by the UN Climate Champions.