How can financial institutions use their operations to build climate resilience?
Expert perspective from Jörg Eigendorf, Chief Sustainability Officer, Deutsche Bank
The topic of resilience usually comes to the fore in the wake of catastrophic events. The devastating hurricanes in Central America and Florida, the floods in Pakistan, as well as the extreme heat wave in Europe and the United States – all happening simultaneously over the last few months – have demonstrated once again that we must take the Intergovernmental Panel on Climate Change reports very seriously. And we need to understand: this is only the beginning!
It is only a matter of time until discussions of resilience dominate the headlines and the political agenda, and public debate about the need for solutions quickly gains intensity.
The Resilience Hub, which was featured for the first time at the Climate Conference in Glasgow last year, gives non-state actors from business, civil society, academia, cities and regions a great opportunity to discuss strategies for adaptation and to find new ways to cooperate. After being involved in discussions last year, we are now stepping up to support the hub as a sponsor. We are convinced that the climate emergency needs more intense cooperation than ever.
So what is our role? How can banks contribute to sustainable and resilient systems?
First of all, our balance sheets and our capital market instruments give us a unique lever to raise capital for the transition towards a more climate-friendly and more social world. Transition financing to fight climate change and environmental destruction is gaining speed rapidly – and investing in the resilience of our systems must be a vital part of that.
Helping our clients develop sustainable business models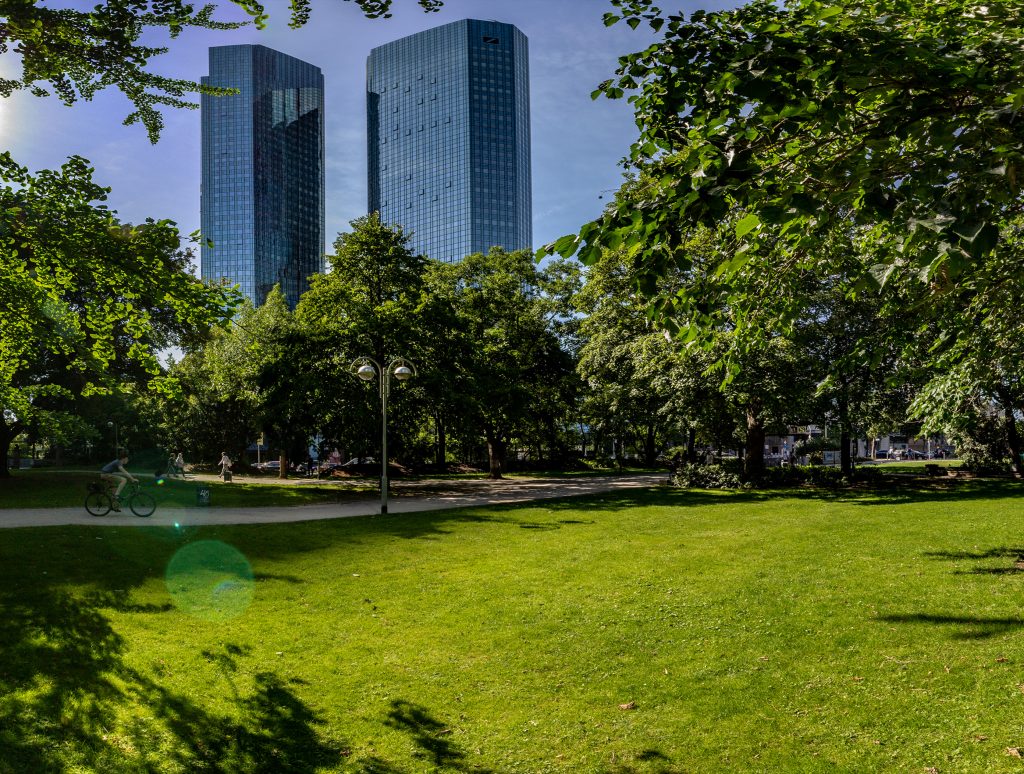 A core part of Deutsche Bank's sustainability strategy is to be a reliable partner in financing and advising clients in achieving their Paris Agreement goals. We see that the demand for environmental and social financing – and also for advice – is growing among our corporate clients. In the first six month of this year alone, my colleagues across Deutsche Bank have met with more than 600 clients to discuss the optimal integration of ESG into their corporate strategy and reporting requirements. From January 2020 until the end of June 2022 alone we facilitated 191 billion euros in ESG financing and investment. Our goal is to make ESG-financing and investment of more than 500 billion euros possible by the end of 2025.
While we have ambitious targets, it is clear that the transition will go much faster if the entire financial sector agrees on terms to drive the transformation. Therefore, the Glasgow Financial Alliance for Net Zero (GFANZ) plays a crucial role in setting the framework for banks and asset managers to align in their battle for net-zero greenhouse gas emissions by 2050. Climate is a public good, hence it needs common standards and alignment to allow the market to develop its full strength in the fight against climate change and its consequences.
Financing resilience and adaptation
The fight against climate change is a vital precondition for continued life on planet earth – and it needs a holistic approach that includes investments to heal damage, actively strengthen the resilience of our ecosystems, and helps the most vulnerable groups adapt to climate change.
We at Deutsche Bank are helping drive investment into nature resilience and the importance of protecting and enhancing nature-based solutions. For example, Deutsche Bank's International Private Bank was the first bank to join the Ocean Risk and Resilience Action Alliance as a full member in 2021. With the Deutsche Bank Ocean Resilience Philanthropy Fund, we are giving clients and other stakeholders the opportunity to create ocean impact and support conservation efforts, playing our part in creating a better, more sustainable future for one of the world's most precious resources.
Also, we promote the green bond market and support the growing demand in sustainability linked bonds (SLBs) and debt-for-nature swaps to connect market activity to responsible corporate behavior. We see it as our task to make the impact of these instruments on the Sustainable Development Goals more transparent.
COP27 is a great platform for us to drive this change.
Here, we will share our financial expertise and enter into dialogue with a diverse group of stakeholders. We are happy to welcome you to the Resilience Hub at COP27 in Sharm-el-Sheikh.
Deutsche Bank are a headline sponsor for the Resilience Hub at COP27.