JPMorgan Chase is pleased to support the Resilience Hub at COP26. Business has an important role to play in addressing climate change. We are committed to helping our communities navigate the long-term impacts of climate change and facilitate the transition towards a low-carbon world.
---
In our business, we are applying our capital, data, expertise and other resources to help address climate change and promote long-term, innovative solutions for a more sustainable future. We strive to promote sustainable development through several avenues, including our Paris-aligned financing commitment that includes carbon reduction targets for the Oil and Gas, Electric Power and Auto Manufacturing sectors, and a target to finance and facilitate $2.5 trillion in sustainable development over ten years.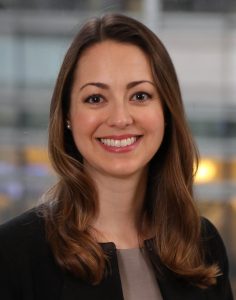 Marisa Buchanan, global head of sustainability,
JPMorgan Chase
Many communities are struggling to manage the impacts of climate-related disasters, such as extreme weather, flooding, wildfire and drought. These disasters, whose severity and frequency is expected to grow over time, often have the greatest impact on our most vulnerable communities that lack resources. A more inclusive and sustainable economy is a stronger, more resilient economy, and this is good for the communities we serve, our employees and our business. JPMorgan Chase is using its resources to help remove barriers to economic opportunity, support inclusive economic growth and advance solutions that address climate change by building more resilient communities.
In doing so, we are supporting organizations and initiatives that help communities better prepare for natural disasters and manage their aftermath. In places like California, the Gulf Coast, and the Pacific Northwest, we have been helping local communities understand climate disaster vulnerabilities and develop solutions to those threats, focused on addressing the needs of communities of colour. We are committed to working with community organizations, business and policy leaders to help our communities withstand the long-term effects of climate change, while also working to advance climate action.
JPMorgan Chase is looking forward to contributing to COP26 with insights from the firm's sustainability strategy and commitment to broader collaboration, including through its support for the Resilience Hub.
---
Main image: A group of girls in Alameda, California, are acquiring financial literacy skills to take charge of their futures. Seen here with JPMorgan Chase staff at a Money Talks Workshop