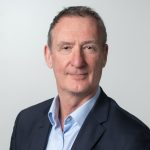 "We know that we can't escape some degree of climate change, so putting climate resilience, as well as net zero, at the heart of everything we do is critical to our purpose of delivering social outcomes. The Resilience Hub will be the focal point at COP26 for resilience and we are thrilled to be playing a central role in shaping and delivering the Resilience Hub programme, alongside our partners to deliver a programme of events that will showcase pragmatic solutions for the benefit for all."
Mike Haig, executive chair, Mott MacDonald
---
At Mott MacDonald, climate action – both delivering net zero and building resilience to the impacts of climate change – is embedded in everything we do. We see, through our work with clients around the world, the urgency for action on resilience. Our purpose to deliver social outcomes aligns with the ambition of the COP 26 Resilience Hub to deliver a resilient world for all.
We support our clients to design and implement their transition to become more sustainable, deliver climate resilient infrastructure projects and make climate-smart decisions, helping them direct investment to where it will make the most impact. We tackle both the causes and effects of climate change, giving equal importance to reducing emissions and building resilience to the physical impacts of a warming world

Collaboration underpins our work. We work with our partners and clients – across business, government, cities and communities – to develop practical solutions to combat climate change and to build resilience globally.
Infrastructure and the built and natural environments have a critical role to play in the transition to a resilient, net-zero world.
Success requires systems thinking, consideration of long-term futures, digital solutions, a focus on the social outcomes for both people and nature, and innovation in design, construction and operation. This is what we do.
We are building tomorrow's world today. With our global expertise, interdisciplinary mindset and focus on practical solutions, we want to collaborate with our partners and clients to support a successful COP26.
---
Picture shows Auckland, New Zealand which is expected to nearly double in population to 2.5m in the next 30 years. Mott MacDonald is helping Watercare, that operates the water and wastewater infrastructure, to reduce carbon and ensure resilient, reliable and sustainable systems in its investment of $NZ5.5bn